This Pinay Designer Makes Celeb-Approved Couture Lingerie
For years, we've been ~*mesmerized*~ by the Victoria's Secret Fashion Show, not just because the models are gorgeous AF, but the intricate lingerie designs have been show-stoppers every single year! If you're wondering where to get dreamy couture lingerie designs that could definitely give VS a run for their money, look no further than ABIMER.
Designed by Abigail Mercado, these custom pieces have been worn by the likes of Nadine Lustre and Solenn Heussaff—plus her designs have graced Philippine runways for over two years now! In an email interview with Cosmopolitan Philippines, Abi reveals her design inspirations, talks about her aesthetic, and shares how a beginning designer could stand out in the local fashion industry. 
How would you describe your style for people who are just getting to know your brand?
"Classy Hubadera" is the first thing that comes to mind when people ask me what my style is. I love making sexy, barely-there pieces! Designing pieces that highlight the assets of a woman is my goal as a designer. Although even if I make "hubadera" pieces, I still make sure that they're still classy and sophisticated. I consider myself minimalist and love making chic, simple designs that make a statement.
How did your fashion design journey begin?
Since I was still in high school, I really wanted to take a course related to Arts or Music. I've been designing since I was 16. I didn't think I would end up in fashion, but it's the best thing that ever happened to me! I took a gap year to study on my own before entering SoFA Design Institute. My first big break was when I showed my Graduation Collection (my first ever collection) at Manila Fashion Festival last 2016. The inspiration for that was actually my love for The Victoria's Secret Fashion Show (I used to watch it every year!) but I made sure that my first collection was something that I can call my own and that it represents who I am as a designer. I've always wanted to do a lingerie collection and thankfully, it was received well. After that, prominent people that I look up to in the industry started contacting me for collaborations and features. I got to do three more fashion shows throughout the year and was named one of Preview's Emerging Fashion Talents the same year. That helped me a lot with my career.
How did you get interested in designing couture lingerie pieces?
Inspired by my love for the VS Fashion show, I promised myself that I would someday do a lingerie collection. I then decided that the best time to do it was during my Graduation Fashion Show since it's it'll be my first time showing the industry what I have to offer. Being the "hubadera" designer that I am, I did my research for a full year and decided to make couture lingerie pieces for my first collection. After that, magazines and celebrity stylists came to me for collaborations.
Is there a certain kind of style you're interested in experimenting with, that you haven't incorporated in your designs before?
When it comes to experimenting, I think I still wanna stick to my style but maybe play with different kinds of materials and methods of making pieces. Also, I really wanna focus and learn more about fashion sustainability and men's fashion.
What advice can you give to people who are interested in pursuing fashion design, but are hesitant to take the leap?
There's nothing to lose and more to gain! Never be afraid to try new things and go out of your comfort zone. I started out making pieces using my grandma's old Singer sewing machine (that was not even high speed) and now I'm very happy to say that I have a total of 10 high speed sewing machines (plus other machines) and my own atelier!
Do you have a favorite piece that you designed yourself?
My first ever piece that I made for my first collection and was also worn by Nadine Lustre for a collaboration.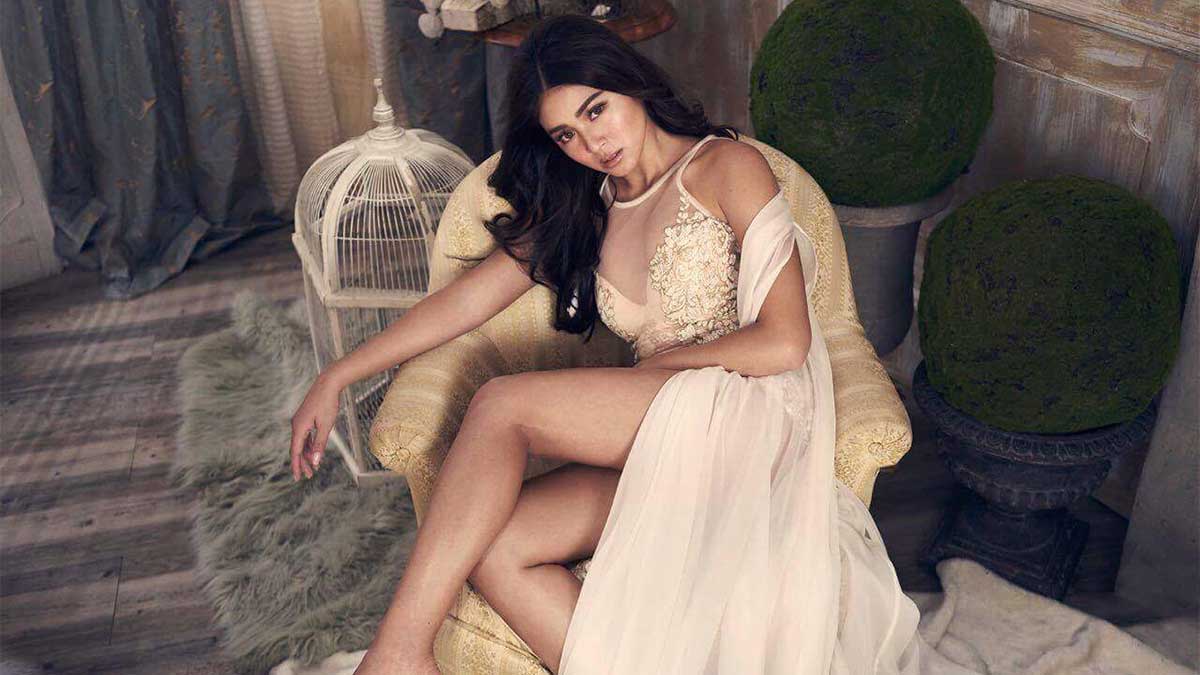 PHOTO: BJ PASCUAL



Can you describe how you found your aesthetic as a designer?
Honestly, it all came naturally to me. I always tell myself to make and design something that I would personally wear and be proud of! Making pieces that will make me and my clients feel great and sexy is what makes me happy.
Who are the designers who currently inspire you at the moment, local or international?
For local, it will have to be Boom Sason and for international, I really adore the Israeli designer Dana Harel and her works.
Realistically, what would be the ideal capital to start as a fashion designer in the Philippines?
To be honest, I'm not sure if there's an ideal capital since it will depend on what you want to make. Know what you want to achieve and maybe even start by investing on just one high speed sewing machine, a dress form, some sewing materials, and start from there.
How does a beginner designer stand out in the industry?
Just be you. Do what you want, do what you love. Know who you are as a designer and how you want people to see your designs. One thing I love about being a designer is that I get to show who I am and what I really want through my designs and pieces. 
View the full article: https://www.cosmo.ph/style/trend-alert/abigail-mercado-abimer-lingerie-a2517-20181003?ref=feed_1